Fachbibliothek Historicum
Location code: 0900, 1202, 1203, 1210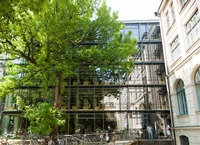 Opening hours
Please note the changed lending conditions and terms of use during the COVID-19 pandemic:

Information on the services of the University Library, which still are partially modified, can be found on the corresponding websites:

• Borrowing
• Workspaces
Monday – Friday 8 am – 10 pm
Saturday 9 am – 8 pm
Reading and study workspaces are freely accessible and can be used without prior reservation. A quota of workspaces is available to subject-specific students for a reservation via the reservations system.
How to reach us
U3, U6, bus 58, 68, 153, 154, alight at Universität
Who may use the library
All students of the LMU in possession of a valid student ID card may use the library. At busy times, however, access will be restricted to students of the faculties 01, 02, and 09 to 15 only.
Subject focus
Archaeology
Byzantine studies
Historical studies
Subject-specific search tips
Library staff
Location code
0900 Fachbibliothek Historicum
Library regulations