About the University Library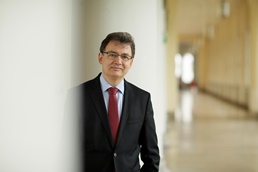 As one of the LMU's main service providers the chief purpose of the University Library is to fulfil the literature and information needs of the scholarly community and to ensure optimal ease of use.
The 21st century has seen the greatest changes in the media landscape for 500 years. The University Library is responsible for implementing these changes in line with the needs of research, teaching and study.
We offer you a high-quality portfolio of subject literature in both electronic and print form, provide secure platforms to host your electronic publications, maintain and develop attractive learning and working environments at 16 locations, and conserve and index the valuable manuscripts and rare printed materials of the LMU's cultural heritage.
The staff of the University Library will be happy to provide you with the information and support you need. All you have to do is ask! Your satisfaction is our goal.
Best wishes
Dr. Klaus-Rainer Brintzinger
Director of the University Library