LMUcard
Please note the changed lending conditions and terms of use during the COVID-19 pandemic:

Newly issued LMUcards are being dispatched by post. To be able to order and to borrow books to take home we have to check your registration address. Please contact UB.info by e-mail to benutzung@ub.uni-muenchen.de and upload a picture of your [German] personal identity card or your residence permit (front and back) or your certificate of residency via upload form. As soon as the data is released, we will inform you by email.

Link to the upload form

Alternatively, you can go to the service desk of the Zentralbibliothek (Main Library) and proof that you are resident in Germany. Please present your [German] personal identity card OR your residency permit OR your certificate of residency.
General information about the LMUcard
General information about the LMUcard can be found on the website of the University administration.
General information about the LMUcard for students (in German)
General information about the LMUcard for employees (in German)
Using the library with your LMUcard
If you have already received an LMUcard as a student or employee of the LMU please note that library privileges are already included in your LMUcard. You will find your library card number on the back of your LMUcard.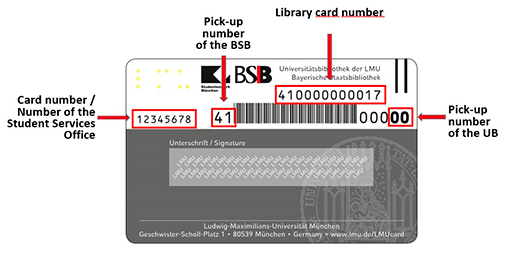 When your LMUcard is issued and validated, the library function of the LMUcard will be activated automatically for all students and employees who already have a library account alike. This means that you do not need to visit the University Library in order to activate the library function.
Employees of the LMU who never had a library card before, must activate the LMUcard manually via the LMU Serviceportal. All relevant data will then be sent to the library and the library account will be created automatically.
LMU Serviceportal (in German)
The LMUcard replaces your previous library card
If you already have a library card it will be automatically transferred to your LMUcard. Please note that the 12-digit library card number on your LMUcard will be your new number. Your existing library card will lose its validity.
If your LMUcard does not work, there might be the following reasons
A block on the previous library card has been transferred to the new LMUcard
Your address is incorrect or incomplete
You have been exmatriculated (temporarily)
You have open service fees or fines
Please check your data in your online account and come to UB.info in the Zentralbibliothek (Main Library) or contact us via E-mail benutzung@ub.uni-muenchen.de.
Personal contact details
Following the changeover to the LMUcard your personal contact details will be stored centrally by the University administration and transferred to both the University Library and the Bavarian State Library. If you previously had a library card, all personal contact data stored by the University Library will be overwritten when your new details are transferred.
Please check carefully to see what personal contact details, especially your address data, the Student Admissions Office holds for you, and update them if necessary. Students can view and update their contact details by visiting the online portals of the Student Admissions Office. Please make sure that you indicate your room number or apartment number for dorm addresses and do not enter foreign addresses.
Student Admissions Office online portals (in German)
Important: Please change the default password
If you have not already changed the default password for the online catalogue, please do so immediately by logging into your library account. As your date of birth is printed on your LMUcard the default password is no longer secure.
Additional services for doctoral students
If you are enrolled on a doctorate course you will automatically receive addition lending privileges and access to the Campuslieferdienst (Campus document delivery service).
Validierungsterminals in den Bibliotheken
Your LMUcard has a visible validity note that can be updated any time by validating it. You can find validation terminals in several libraries:
Ausleihhalle der Zentralbibliothek
Fachbibliothek Medizinische Lesehalle
Fachbibliothek Philologicum
Fachbibliothek Psychologie, Pädagogik und Soziologie